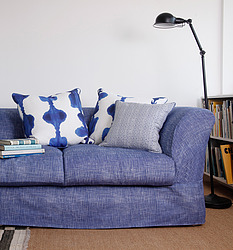 We are a London based interiors fabric company selling an original collection of contemporary geometric designs.
All fabrics are designed in house and hand screen-printed or digitally printed onto beautiful Scottish linen union. We pride ourselves on supporting British manufacturing and all of our home accessories are made in the UK.
Our collection of prints are designed as a kaleidoscope of pattern and colour, intended to be mixed and matched across the range. We hope to encourage our customers to be confident and bold with colour and pattern. Mixing our prints to create a chic contemporary home that you will love living in.