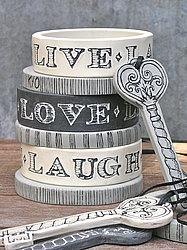 Know Your Onions is a small business set up by Jayne Simmonds, producing gorgeous, distinctive handcafted jewellery that transcends fashion. With a passion (verging on an obsession!) for statement jewellery, it was a natural progression from hobby to profession.
Crafted in resin, the natural looking finishes of slate, ivory and pebble are utilised across bangles, pendants and brooches. The pieces are intricately engraved with details and patterns with a nostalgic heirloom quality yet are of a contemporary disposition and scale.
The bangles are designed to stack, allowing you maximum impact from these statement pieces. The finishes work equally well mixed together or on their own.
Fun, bold and totally unique. Individually handmade for you.