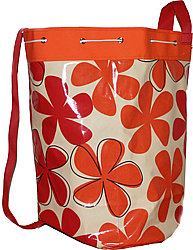 British designed and made... Klobbabags offer unique, fabulous looking, tough, waterproof and long lasting bags to carry all of Life's Klobba, no matter the age.
I was a mum rushing from one children's activity to the next with a mountain of Klobba but I never seemed to have a bag that would suit my needs. So back in 2005 I replaced the tired old bags in my life with ones that I designed and that did exactly what I needed. They had to be great looking, original, practical, with pockets, strong comfy handles and robust enough to take the rigours of our busy action packed lives.
Klobbabags: on the beach, in the country, in town ...Sleepover bags, weekend bags, pony club bags, sailing bags, shooting bags, wash bags, make-up bags, pencil cases, kid's kit bags, baby changing bags, mums swim bags, family beach bags, university laundry bags, pet accessory bags, and dad's bottle bags to name but a few ideas!
Nine basic designs in acrylic canvas and oil cloth fabric. Each year we source new and original fabrics, although some of our bestsellers never change!
They are priced fairly and made to the highest standards using the finest materials & accessories by a team of true professionals.