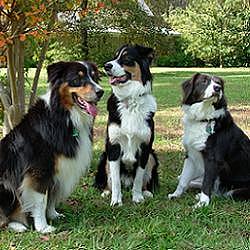 At Klassy Canine Bakery, we aim to satis-fido! With this goal in mind, we hand-craft a delicious range of treats and a unique collection of toys. Combined, we offer an appealing selection for dogs and cats.
Our baking skills were born out of necessity by the adoption of Bob, a one year old Australian Shepherd. In our presence, Bob was perfectly happy. Left alone, she set about destroying everything in sight. We decided to hide treats to occupy her whilst she was by herself and set about making irresistibly delicious biscuits and muffins. If she had been good, she was rewarded further with her favourite. Within days, Bob's behaviour was transformed and domestic harmony was restored.
That was over fifteen years ago. In 2007, we launched Klassy Canine Bakery, a family run Devon-based business. We are approved by both DEFRA and Trading Standards. Currently, our products are enjoyed by resident testers, Klassy, Shep and Lupin. Our treats, made from human-quality ingredients, include favourites such as Dogrritos, FlapJack Russells and Bourbone Biscuits. Our unique tugs and toys are made using 100% polyester fleece. Now our delicious treats and entertaining toys can be enjoyed by your pets.