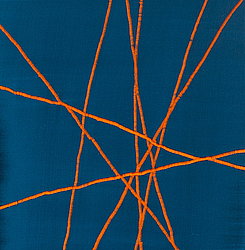 All of our chairs are upholstered using traditional methods and materials, with tied springs and hand embroidered covers. We also provide a full re-upholstery service and, due to the traditional way we work, can alter designs and fabrics to suit your needs.
We have a collection of repeatable designs along with the one off vintage pieces we find and transform. You can view these pieces through our store 'Kirsty Hull'. Look out for new footstools, headboards and cushions later this year as we expand our range. You can also call us to commission a bespoke piece, be it something you already own or something specific you need us to find and restore for you.
Kirsty graduated from Glasgow School of Art in 2004 and went on to train in traditional upholstery with the AMUSF. She marries her unique creativity with expert craftmanship and uses traditional upholstery methods to produce unique handcrafted furniture.