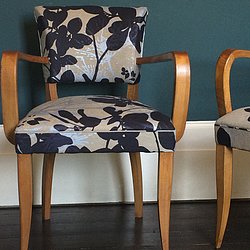 Kiki Voltaire's interior collection fuses vintage furniture, craftsmanship and vibrant fabrics. We re-invent classic furniture and create new handmade pieces to match your taste. British, bespoke and made to last a lifetime.
We specialise in contemporary notice and fabric notice boards as well as bespoke notice boards, upholstered headboards and re-upholstered vintage chairs, all handmade to order in our Brighton's studio.
We also offer a personal design service on our collection of headboards and notice boards, working closely with our private customers and Interior Designers to offer a bespoke product.
Stephanie is the founder and maker behind Kiki Voltaire. She trained in both traditional and modern upholstery at The Cass (London Metropolitan University), following her passion for interior design, textiles and well crafted handmade furniture and home furnishing.
Quality craftsmanship is paramount to Kiki Voltaire's work. We produce unique pieces of furniture beautifully crafted that are made to last a lifetime. We are dedicated to providing a personal service and sourcing the best materials and fabric to create individually made pieces for your interior. Wherever possible, we use materials from the UK and European suppliers, as we strongly believe it is important to support our industry and keep our "savoir-faire" alive.
You can check Kiki Voltaire's collection or contact us If you are seeking a bespoke piece, such as a noticeboard, headboard or a chair.