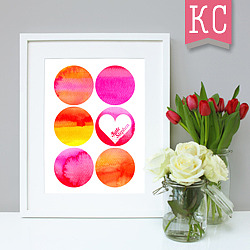 Designer and illustrator Katy Clemmans creates vibrant, contemporary artwork from her home studio in West Sussex.
Raised in rural Shropshire, Katy earned a degree in graphic design and kicked off her career at the BBC in London. She has been designing and animating graphics for our television screens for over 14 years, even picking up a BAFTA nomination along the way!
Katy returns to her love of print and pattern design with her wall art collection launched in 2014. She combines hand painted or drawn textural elements and layers them into bold, graphic compositions to produce vivid, eye catching illustrations. The finished products are affordable art prints with beautiful details.
Many of Katy's colourful designs are customisable, making perfect gifts for adults and little ones. Her love of typography is apparent and great care is taken to ensure each artwork is perfectly composed before leaving the studio.
Watch this space as the Katy Clemmans product range grows and diversifies. Katy is bursting with ideas and can't wait to share them!