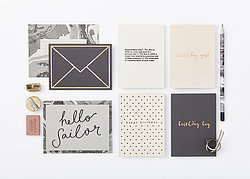 Hello and welcome to Katie Leamon! We are a luxury card & stationery brand with a love of typography and illustration!
Working from a studio in the heart of London, Katie Leamon brings you collections of beautiful products made using traditional methods, aiming to capture and reinvent the timeless, tangible and authentic nature of handmade work and evoke a sense of nostalgia. The collection are largely hand printed in house using rubber stamps and each item is carefully hand finished before being sent onto the next stage of its journey.
The brands inspiration comes from traditional nursery rhymes, fables and fairytales resulting in timeless enchanting designs that are delicate in detail yet graphic and strong. Katie prides herself on the attention to detail at every stage, from design to delivery, so you can be sure you are getting an original product with a personal touch with every purchase.