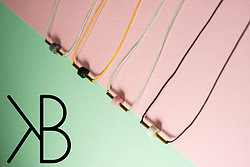 Welcome to KatieBetty, a Manchester based handmade business & one girl show run by designer/maker Katie Jones, a Textile Design graduate with a Masters degree in Design Cultures. KB jewellery designs are all about clean lines, geometric shapes & luxe minimalism, with an aim to create timeless pieces. Katie draws inspiration from elements ranging from minimal forms in architecture, to a keen interest in process and a love of materials.
All pieces are made by hand, using materials such as leather, brass, copper & wood. All the leather used is re-purposed or recycled off-cuts, making KB more eco friendly & also making each individual design that little bit more unique.
Feature photographs by The Published Image.