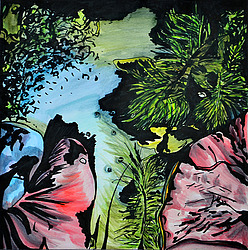 Kate Robotham is a Loughborough based artist and recent fine art graduate, with a passion for painting.
She has exhibited widely across the UK as well as abroad, and is excited to be expanding her practice online too.
She takes inspiration from her everyday surroundings, finding the extraordinary in the ordinary, crafting this through paint and pen.
Her ink and watercolour paintings use a unique style of strong, bold line and shading, combined with the bright, yet delicate addition of colour. They embody a sense of wonder at the world around us, allowing it to be seen from a fresh, joyful perspective.
'I want you as customers to share with me in this, bringing a breath of fresh new life to your home or office, providing an escape into nature within your everyday'.- Kate Robotham.