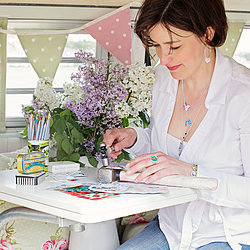 Kate Hamilton-Hunter began her working life surrounded by fabrics and pins as a seamstress, for ten years creating everything from curtains to wedding dresses. Then it was back to college to study Embroidery, thinking that this was the next natural step for her. However, four years later a new medium had taken over from cloth and stitch as Kate began to experiment with all kinds of metal, including recycled brass, copper, aluminium, and even recycled baked bean tins - anything she could get her hands on!!
Working with these metals led her to a workshop in the year 2000 with tin artist and sculptor Lucy Casson and Kate's lightbulb moment occured on her way home from Ruthin Craft Centre that evening. The colourful biscuit tins added a new dimension to her work. In that instant, her jewellery collections were born!!
The studio supplies hand-made jewellery made from upcycled biscuit, sweet and toffee tins to nearly 500 stores and many happy online customers.
Kate has won herself a name for innovation with this unusal material and has a knack for searching out the loveliest of tins from all sorts of places! The result is a delicate, unique and totally desirable jewellery collection comprising necklaces, earrings, bracelets and brooches. Kate still loves to work with aluminium as it is so light and delicate, so pieces are available in plain aluminium as well. She is also a trained silversmith and has created a collection of silver jewellery that uses 100% recycled siver, manufactured in the UK.
At the studio can make bespoke jewellery from your own tins and particularly likes making sentimental family heirloom tins into jewellery for all the family.
The KateHH Studio makes every effort to be as eco-friendly as possible and recycle all waste products. They also source many of their jewellery components from UK manufacturers and promise excellent customer service and attention every step of the way.