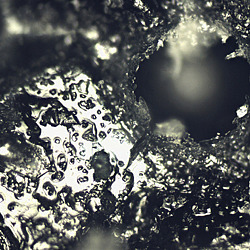 Karen Hackett is a photographer from Bristol, who is focused on capturing strong and detailed images of food and showing its beauty. This then evolved into something more impressive and different as she came across an interesting way to achieve these images, which highlight the qualities, textures and colours. As well as capturing more creative, unique and abstract images of food you see everyday.
This product range consists of unique and abstract images of food taken through a microscope. Printed and mounted onto Foamex for a strong and clear look. Food is seen and consumed everyday but when do you ever get to see what it really looks like? The work from this project shows exactly that, as it allows you to see the true detail and rawness of the food. These images show what is restricted by the naked eye, exposing you to the wonders and mysteries of the unknown and the microscopic.
These pieces bring a different style that captures creative, unique, intriguing and abstract images of various foods, which work great as art to hang on your wall. Whether it be for yourself or as a gift.