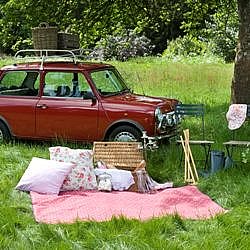 In 2011 Just a Joy started its small but dedicated business in a village in South Oxfordshire, in the beautiful countryside of the Chiltern Hills.
We hope that our customers will greatly enjoy the products we make. Appearance, convenience and quality is what matters to us. We make sure that this shows in all our products. All Just a Joy products have been designed with great care and are manufactured in England.
Our current range of products includes picnic rugs, table cloths, bags, aprons and placemats. For a closer look at our products, please click one of the photos in the gallery below.