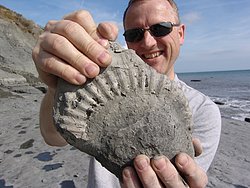 In the Rock Business!
Junior Geo is a family business which takes a fresh look at the oldest and most unique product range in the world!
Our aim is to encourage a curiosity and an appreciation for our amazing world by selling top quality, beautifully presented fossils and minerals.
Bill, a qualified geologist, first got the idea for Junior Geo after visiting his son's school during 'show and tell' to talk about some of his prize specimens.
He was so amazed by the enthusiastic reception he received from the class that he decided to leave the oil business and set Junior Geo. And he hasn't looked back since!
"I don't regret leaving the oil business for one minute. I'm doing something I 'm passionate about, and my children can relate to. The whole family has a say in the business, with the kids often leading on product development!"
And after 20 years of living in South London, Bill and his family have moved to their dream location of the Jurassic Coast in Dorset. Surely the only place to live if you love fossils!
Today, all of Junior Geo's products are hand-selected and created in Dorset, to ensure that Bill can keep a sharp 'geologists' eye on the quality.
"When children see our gift boxes and party bags they often think of treasure! We want kids to go 'wow' and be filled with wonder. Our aim is that our products will take pride of place in a child's bedroom!"