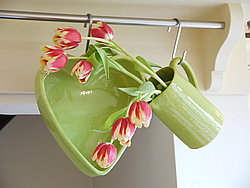 We offer unique and colourful handmade cookware from Portugal made exclusively for Jules China.
As well as our famous heart dish and tagine cooking pot we also stock informal dinnerware to enhance any table setting and try to offer something a little different to products generally found in England.
All our ranges are hand picked and shipped by ourselves.
Exciting new products arrive every month to tempt and encourage the novice as well as the experienced cook. Mix and match colours over time.
Whether you are making a crumble or serving a salad we have a colour to suit most room sets.