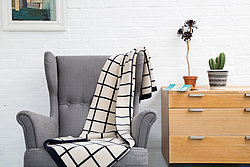 seven gauge studios - a knitted joy to behold.....
A collection of knitted cushions, blankets, hot water bottle covers and scarves in bold patterns and fresh colours. My aim is simple - to produce an honest product, made well, using great yarn.
My love of midcentury design, together with an ever-growing collection of vintage fabrics and knitting patterns serve as my constant source of inspiration each season.
All products are designed and handmade at my loft studios in Nottingham, importantly keeping manufacture within the UK. Each piece is knitted on a hand-powered machine and then individually washed, pressed and finished by hand to my exacting standards.