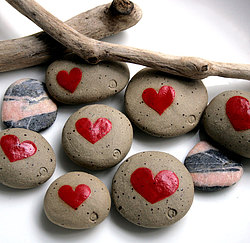 My passion is making beautiful pieces to adorn you, your loved ones and your home.
Clay has been the medium that I have enjoyed working with for the last twenty years, so in 2009 after the birth of my third (and last!) child I decided to rent a studio space and go full time. Now, from my open studio in Somerset where I work off my old kitchen table I produce ceramic items of curiosity and quirkiness, including couture buttons, wedding favours, fine art ceramics and decorative bowls and home wares.
Working mainly in stoneware clays and porcelain I start with a neutral muted palette adding bursts of colour with vibrant, rich underglazes. A few pieces even have the odd flash of gold coloured leaf highlights added here and there.
Being an artisan/maker satisifies the magpie in me... I covet things of beauty and value the skill that goes into quality handmade pieces. I hope that some elements of these qualities are reflected in the items I create.