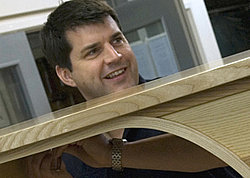 John Whitfield is a contemporary designer-maker of fine wooden furniture. His beautifully designed and crafted pieces combine style and practicality to enhance any home.
The use of flowing curves in his designs is a distinctive feature of John's style, and he particularly seeks to follow the natural grain direction of the wood. Striking a balance between lightness and robustness, these designs have a harmonious elegance.
Sustainability is of key importance to John: working in a way that both minimises environmental impact and contributes to the ongoing survival of native British woodland is a cornerstone of his approach. He uses European and North American hardwoods exclusively, and tries wherever possible to use locally felled timber.
John trained in Furniture Crafts at the University of Cumbria and set up his own wood workshop in Cumbria's Eden Valley. He now uses his skill and knowledge of this beautiful and versatile material to turn his designs into reality.