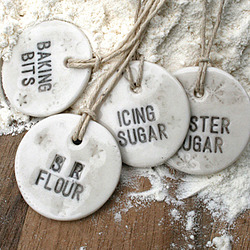 If you were a fly on the wall at our London studio, you would be forgiven for thinking you were at a bakery! We use similar techniques to making biscuits – rolling out the finest porcelain clay into slabs and then using a selection of cookie cutters and templates to cut out a variety of shapes. These are then stamped with a rich array of textures using vintage stamps and found objects, before being fired in one of our kilns. They are then glazed in our signature soft glossy colours to create a lovely mix'n'match batch of goodies.
Customer service is the centre of our business and we will always do our utmost to create 100% customer satisfaction!
Many of Jo's products are designed to be personalised, perfect for whenever you want something a little bit special that won't break the bank!