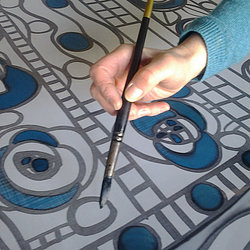 My love of beautiful fabrics, joy in experimenting with colour and pattern and thrill at being able to share this with my customers have been my raison d'etre every day since I first started selling my work back in 1986 with the support of The Prince's Trust.
Even as a small child I loved to create things that were individual and different from the everyday and sameness of mass production. I believe something as simple as a silk scarf, painted lovingly, by hand, can transform a simple oufit and bring individuality and creativity to our lives, enriching the ordinary.
I discovered and developed an unusual monoprint technique, while taking an Art and Design degree, which allows me to use the spontaneity of brushmarks, emphasising the unique hand painted quality of my designs. It also gives them a distinctive painterly fluidity that has come to be a trademark of my work. Along with the fabulous qualities of silk as my canvas, feedback from my customers over the years has meant that I have been lucky enough to specialise in a technique and fabric that I love.
Thanks for 30 years of sharing my passion - a life less ordinary!