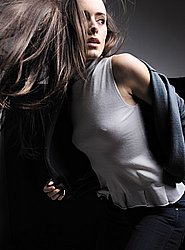 Everyone loves the luxurious feel of cashmere and that is why at JM Cashmere we are dedicated to making superb quality cashmere clothes at the most competitive prices.
JM Cashmere is a 100% British owned company based in London. We create all of our own designs, which are then produced in China and shipped to our distribution centre in the UK.
We purposely select and mix various dyes to create unique colours that you do not find in the mass production world of the High Street. We use only the best cashmere that has exceptional durability and very little piling (bobbles).
Our cashmere yarn is made from pure Mongolian Cashmere, sourced from Inner Mongolia-China. We use the highest grade of fibres below 15 microns in thickness and above 42mm length for worsted and above 36mm for the 12 GG yarn.
In our endeavour to portray the quality of our cashmere clothes through images on our web site, all of the photographs were taken during the photo session by Jerzy Gnatowski, who is one of Poland's leading fashion photographers (all image rights reserved).