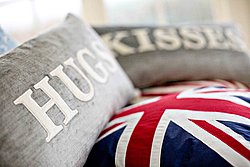 Jane Hornsby has 18 years experience in the Home Furnishings industry, her first collection was launched in 2008 after an increasing demand from clients for her designs.
Jane's initial collection of velvet cushions received much praise and has taken pride of place in homes across the world. After its great success her Linen Flag collection followed and later her wool collection. Since then Jane has been involved in design commissions with private and commercial clients both domestic and international. She has continued to expand worldwide.
2015 has brought the introduction of Jane's own fabric, in the form of her printed linens, Fitzgerald and Hanover.
Jane and her team work from her Studio in rural Northumberland. We pride ourselves on offering the best possible customer service. If you need any help or advice please do not hesitate to get in touch.