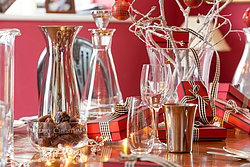 Inkerman started life in a flat on Inkerman Terrace in Kensington with a lap top and a phone. Now in its 20th year, the company has grown considerably with a healthy turnover delivering luxury gifts, trophies and awards worldwide.
Founded in 1996 by Louise Eadie and Kiki Grigson, (both ex Tiffany & Co), both; held a wealth of knowledge in the luxury gift market saw an opportunity for a new British brand offering high quality, British made gifts, trophies and awards. Having started primarily working with corporates it wasn't long before Inkerman had a strong private following and the company evolved into a well known brand for luxury gifts.
The company works to high standards to achieve impeccable attention to detail and excellent customer service, often exceeding customer expectations.
Kiki and Louise both still work in the business and since the launch in 1996 have both married and had three children "We have juggled over the years; there are times when the work life balance works well and times when it goes pear-shaped. It feels good right now"
Louise and Kiki's Credo
The key to giving the perfect gift is finding something that is unique, personal, a product of high quality, craftsmanship, something that can be carefully personalised and that is beautifully wrapped and presented. They believe "beautiful things should be used and loved every day not kept for best".