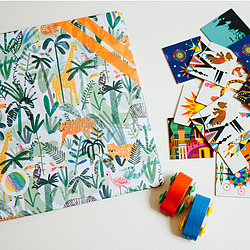 Imagination Adventures is an online book shop run by Caroline, specialising in visual books for all ages.
Caroline, owner of Imagination Adventures loves the ability to get away from it all in a picture book, so when she had her son Albie the passion came back to her and Imagination Adventures was born.
The book clubs offer a great family experience as you wait and see what the monthly book is. The type of books that make it into the Imagination Adventures book clubs must be beautifully illustrated, with few words so that your mind does most of the talking and to get the brain cogs going once the last page has been turned, whether it's telling more of a story or going off in search of an inspired activity.