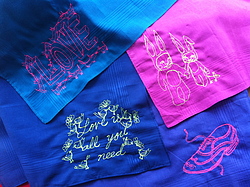 Artist and embroiderer Naomi Avsec launched ilovespoon in 2004 to create unique pieces for her dream-like embroidery designs.
ilovespoon marries a love of illustration and embroidery with a skillful style to create beautiful and inspiring one-off designs. Each piece is individually embroidered freehand without an outline, (a bit like doodling but with thread instead) allowing imagination to shape each piece. With recurring themes including nature, animals, love and life, Naomi's designs have an energy and personality rare to textiles.
2007 to 2013 has seen Naomi collaborate extensively with Paul Smith, designing and embroidering men and women's shoes, ties, hankies and various 'special' projects including customising a Philippe Starck lamp. In 2011 she had her debut exhibition 'Doodles, Dreams & Stitchery' in Tokyo and embroidered personalised messages onto Paul Smith products in the gallery for customers.
From 2007 to 2012, as well as embroidering furniture and artworks, Naomi has been producing embroidered Love Letters, cushions and dog portraits for Liberty of London.
In 2013/14, Naomi staged her second one-woman show 'Treats & Treasures' at Paul Smith's Space Gallery in Tokyo.
Currently she is doing a Masters Degree in Fine Art at Wimbldon College of Art.
Naomi loves creating bespoke and personalised artworks for customers - all commissions greatly considered.