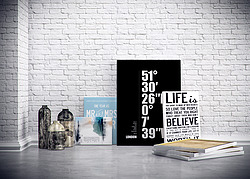 Welcome to I LOVE ART LONDON !
We offer readymade and personalised collections of luxury poster art prints and 100% cotton canvas wraps (ready to hang!). At I LOVE ART LONDON – there is something for everyone!
We create handmade, bespoke designs - as well as some limited edition art prints. - All of them are made just for you!
All our prints are made on demand and we always try our best to ship as soon as possible. The canvas prints needs to dry for at least 24 hours before we ship them and we let our posters dry for a minimum of 12 hours.
On rare occasions, some items may be delivered outside the published timed windows.
Our posters are printed on a luxury matte 240gsm satin paper stock. Our posters will include a narrow, 3mm white border around the print.
The limited collections of art prints are printed on a 310 gsm, lightly textured 100% cotton rag fine art paper.
Our canvases are ready to hang on the wall!
We only use genuine pigment inks that are guaranteed fade-proof for up to 100 years (indoors or behind glass). They are museum grade inks.
Please don't hesitate to contact us for more information or questions regarding any of the products or commissioned work.
Welcome to I LOVE ART LONDON - part of I Love Design.