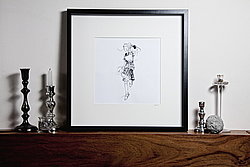 Emma Cowlam's hand stitched and hand drawn illustrations are produced under the name of 'Illustrated Life'.
Her illustrations are visually journalistic, depicting the daily scenes that she is witness too and are formed by her distinctively original and unique monochromatic and linear style. Before a hand-drawn illustration can be created Emma individually hand stitches the scene she observes on to paper, using an exquisitely intricate and detailed process.
These prize winning illustrations are exhibited internationally within galleries as well as within well known media publications.
Emma also takes commissions for bespoke images which make for highly unique and personal gifts.
All works are individually hand produced my Emma in her studio and signed.