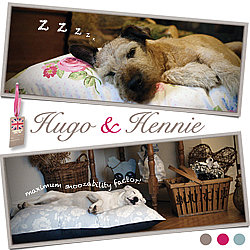 At Hugo & Hennie we create beautiful and luxurious bedding for your four-legged friend, oozing with style and snoozability. Our Devon-made bespoke bedding is both pretty and practical, and designed with your dog and your home in mind.
Our beds are designed from a changing seasonal palette of gorgeous interior fabrics, making beautifully unique additions to the decor of any lovely home and something you will definitely want to show off! By having only a number of prints and plains to choose from, and changing them seasonally, we can ensure each colour combination is not mass-produced, making each dog bed all the more special.
The true meaning behind the Hugo & Hennie brand is to bring you quality products that are both beautiful and useful. Like many of our customers, great care had been taken in designing our home over the years, but so so often the less than desirable dog 'stuff' was quickly hidden away every time a guest popped round. So the plan was to set about creating products that your four-legged friends will love and that will blend right into their home.
'Have nothing in your house that you do not know to be useful, or believe to be beautiful' William Morris.