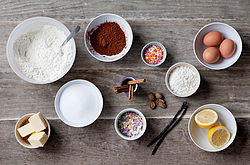 At House Of The Rising Bun we have created a range of 100% natural cake mixes which are delicious and easy to make. We use the finest ingredients for the truest flavours. We never use any additives or preservatives and to top it all off, our sprinkles and decorations are all naturally coloured. So you can rest assured your cake is beautiful inside and out.
We are a nation of cake lovers and House Of The Rising Bun celebrates this. Our mixes are for people who appreciate good ingredients, and like nothing more than a good cup of tea and a slice of home baked cake!
We make all our mixes in our kitchen in Bristol. We are proud of our west country roots and source local products wherever we can, including locally produced flour and British grown sugar. Each mix is made by hand and finished with a hand tied ribbon, so they are perfect for a treat for yourself but beautiful enough to be given as a gift.
All our mixes make one generous 18 cm (7 inch) cake or 16 cupcakes. All you need to add is butter and eggs. All mixes have a shelf life of 6 months and the sprinkles last for longer than 18 months.