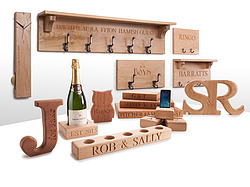 House of Carvings is based on the edge of the tranquil New Forest in Hampshire and specialise in personalised unique gifts, wooden letters and signs. As pat of my hand-made wooden products I have a very simple ethos, if it's not bespoke, quality and above all handmade by me, I don't sell it.
Knowing each product is for a special person and unique occasion, I ensure this is reflected in the quality of the woodworking. I take take pride and time in each and every gift to ensure each is truly unique.
House of Carvings aim is to provide quality products from the unique to the unusual. The majority of our work is personalised, making it a special gift and something to be treasured. I truly enjoy and care about my work and I believe this shows in the products I produce.