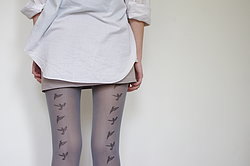 Established in 2012, hose. tights was set up and is run by Ravensbourne fashion graduate and print designer Rebecca Cluett.
After starting out with just 3 prints, hose. has grown as each year brings a new collection of prints to add to the bestsellers of previous seasons. All the prints run in a vertical line inspired by the traditional seam running down the back (or front if you are a bit braver) of the leg. All these tights are lovingly hand screen printed in house in Rebecca's bright and airy home studio in Brighton then beautifully packaged, also in house, making them a perfect gift for friends, family or of course for yourself! She has recently got back to work after having her first baby so now has a lovely, teeny tiny "helper" too!
All tights are machine washable and come in recylable packaging.