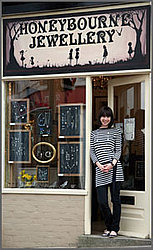 Sophie Honeybourne started her jewellery business after graduating from London's Royal College of Art with a Masters Degree in 2003, exhibiting her work in many prestigious galleries around the country.
In 2007, Sophie decided to expand her business by opening Honeybourne Jewellery in her home town of Ventnor on the Isle of Wight, where her studio is also based.
Her jewellery is inspired by change and repetition found within nature, drawing from the surrounding beautiful deserted beaches and un-spoilt woodland.
She works mainly in silver adding sumptuous seasonal colour from a palette of around 50 hot enamels.
Work can be carried out on a commission basis, including bridal and wedding jewellery, and can incorporate inherited stones into designs.