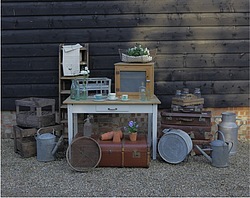 Homestead Store was set up by Laura Sabogal who has a background in interior design. Her love of sourcing led her to start her own business.
The ever changing stock features collections of beautiful vintage and reclaimed furniture and accessories for the home and garden. Items include reclaimed antiques, time worn homeware and utilitarian items. Time is spent carefully sourcing at antique fairs and auctions for items that are functional, full of character and beautiful.
Some of our items will have a few bumps and chips here and there but that adds to the charm of the item showing the life it has led! All items have individual character so you can create a home that is unique.