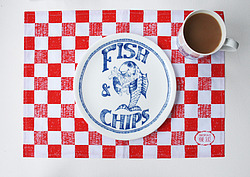 We are Home Slice Design, a design led homeware label on a mission to champion the unsung domestic heroes of Britain and to create homewares that inspire nostalgia, optimism and the occasional smirk or smile.
Home Slice was founded in 2011 in London by illustrator Steph Parr and product designer Eleanor Gregory who bonded over a love of crumpets, primary colours, oddballs and fond memories of the obscure northern towns they grew up in.
After many conversations about all this shared enthusiasm, they found they both adored the same style and aesthetic of design. This quickly lead to Home Slice Design being set up and many weird and wonderful homewares being created. As you may notice every Home Slice product is heavily influenced by some classic, over-looked British icons (although you'll find no naff Union Jacks here), and so all manufacturing and making is done in England to support and maintain the UK manufacturing industry which is now so important.