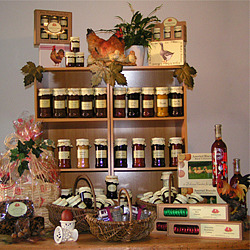 Home Farm Fowls is a small, family run business based on the edge of the wolds in Lincolnshire specialising in poultry housing and country inspired gifts, garden art and things to inspire people to get out into the countryside!
Fiona and Colin were living in Kent and had been turning part of their garden into a productive veg patch and keeping poultry and dreaming of escaping the M25 for 13 years before finally starting the company in 2006, making the break and heading for the horizon!
Those years of living and dreaming of the countryside have informed their choices, they are aware of the space available and of just how inspiring decoration can be. A driftwood votive makes you long for the shoreline, a rabbit print can give you the urge to rush out and pick brambles! It doesn't take much.
Twenty or so years of poultry keeping and showing (starting with three hens, building up to several hundred!) has taught them an awful lot too. Mostly that you don't need that many to enjoy them! Three, clucking about your garden is incredibly soothing and when they know you'll sometimes have a treat in your pocket you'll have a friend for life.They also know that keeping chickens can be easier than most other pets, given enough space, food and fresh water they are happy together. Making the right housing choice for you and your birds makes all the difference in just how easy (and therefore enjoyable) it will be. We all love the eggs but do we want to be on our knees getting them in the winter?