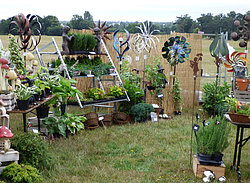 Hello, we're Fiona and Colin, two happy gardeners who were living in Kent and turning our back garden into a productive veg patch, keeping chickens and dreaming of escaping the M25.
Six years ago we did just that and moved to the edge of the wolds in Lincolnshire with wide horizons and a rude awakening to gardening in exposed locations!
However, we wouldn't change it and it's really informed us on how the elements impact on our garden and especially wind and how it can change in strength and direction in a very short space of time.
We've enhanced our garden using kinetic artworks which add life and interest even when the flowers aren't at their best and these are the ranges we bring you here in a collection of affordable, enduring sculptures that will give pleasure and wonder for years to come.