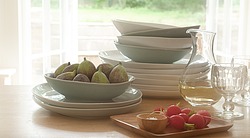 Home Address believes in beautiful homes filled with useful products. We believe that finest quality is essential but that it needn't cost the earth. We believe in simplicity and sophistication, tradition and modernity, spontaneity and carefully thought through plans. We believe in the value of a discerning eye. Above all, we believe that your home should be enjoyed. We hope that what we do will help you enjoy yours.
We started business in 2013 when our founder, Celine Lynch, saw the need for carefully curated collections of homeware that span the gap between mass market utility and high end specialty. After a career spent in retail buying and fashion marketing, she brings a unique perspective to storytelling for the home.
The items we choose to run are selected because we believe them to be the most beautiful, most useful, best quality products of their kind. Some are bought direct from well-established brands or from specialist craftspeople, some are sourced from producers around the world, and some we design and commission ourselves. In every case we look for products that have a story to tell.