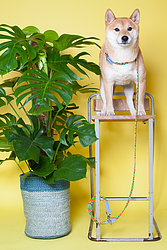 Artisans and adventurers: Hiro + Wolf is based between East London and East Africa, giving traditional craft modern appeal by combining a minimalist aesthetic with our love of colour and print to create an exquisite line of lifestyle accessories for people and pets.
Hiro + Wolf jewellery is designed and made in collaboration with small-scale artisans and Fair Trade groups, empowering women and families. Working with natural, locally-sourced materials such as ceramics, wood and horn – as well as recycled brass and aluminium – each design has its own story to tell. One such group offers people with physical disabilities the opportunity for better livelihoods through training and employment.
Our collection of unique dog leads and collars is made entirely in the UK, stitched from bright African fabrics sourced during our travels and trimmed with luxurious vegetable tanned leather.