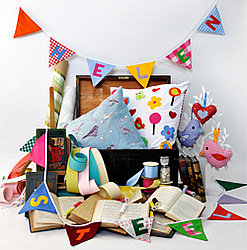 I am a Scottish designer, living and working in Edinburgh where I create original, handcrafted gifts and accessories. All my work is based upon drawings and sketches which I translate into fabric using stitch, print and appliqué.
Everything is entirely handmade using natural fabrics. Due to the inidividual nature of my work each item is completely unique.
My love of print, colour and surface pattern is evident in my designs. Inspiration comes from illustration, nature, children's books, photography, travel, films, memories of my childhood, fairytales and drawing.
All my pieces are designed to be happy and uplifting – I enjoyed making them and hope they bring you pleasure too!