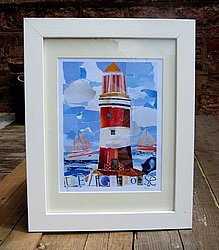 I have been making artwork for many years and for most of that time the sea and seaside have been one of my recurring themes. Memories of playing on beaches, of holidays by the sea, walking along piers and sitting legs dangling off an old stone jetty staring out into the harbour and the sea beyond.
With these latest works I have been experimenting with torn paper and collage to create some simple and bold images of the things I love, old steam ships, sailing boats and lighthouses.
My way of working is eclectic and my way of working is constantly reinventing itself. Through the works on canvas, mixed media pieces and three dimensional work all have a sense of fun and these will be appearing on this site over the coming months.