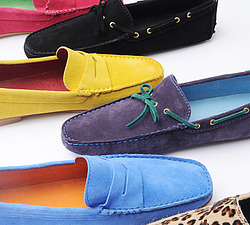 Luxury handmade driving shoes and loafers for discerning ladies and gentlemen.
Havelocks London have answered the silent call of men across the world who seek to highlight their personality without compromising the clean cut lines of their office or casual attire. Formed through a warm friendship between our in-house design team and a family run artisan tannery, the luxurious British brand has seen their eye-catching and stylish driving shoe become footwear of choice for discerning men seeking to inject a splash of vibrancy and charm.
Ranging from the subtle shark grey suede to the brilliant racing red (with black lace) each shoe is beautifully handcrafted and their unmistakable shape and style complements all suits, jeans and shorts. The supple and sumptuously soft suede materials ensure maximum comfort throughout the day and night with a textured sole for grip without compromising style.
Our shoes allow men to make a distinctive statement for any occassion. Havelocks help a man feel spoilt, stylish and confident enabling them to put their best foot forward.
Each fit is true to size and are packaged in Havelocks branded dust bags and boxes. Think high fashion and luxury without the extortionate price tag.