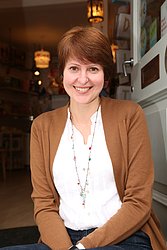 Welcome to Harmony at Home Children's Boutique, a magical ethical toy shop in West Sussex.
I'm Claire Fisher and the owner of the Boutique. After having my two boys, I soon realised how difficult it was to find good quality educational toys and games that weren't made from cheap plastic. It's this desire for quality and good design that drives my passion for sourcing new and inspirational children's gifts and toys.
Many of our toys are wooden and because they are well designed, they enhance the home and become items that children and families will treasure. We have a strong relationship with our suppliers ensuring they are ethical and are as proud of their products as we are.
Our focus is always on strong customer service and we love it when a customer asks for one of the items they've ordered to be gift wrapped with a handwritten message and we know that the gift is going to 'a very special little girl on her 5th Birthday' and can imagine the joy on her face as she opens her present.
We go out of our way to deal with queries and special requests so please don't hesitate to contact us if you have any queries.