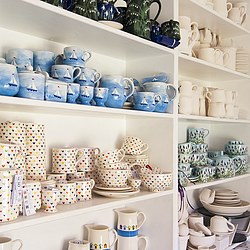 I have been designing and producing hand-painted ceramics from my studio on the Suffolk coast for over eight years, during this time selling through many of the high-end shops and galleries throughout East Anglia. I have a unique range of designs applied to a wide variety of products from egg cups and tea pots to large plates.
All the designs have a quintessentially 'English' feel to them as well as a local one and therefore are very popular with visitors from home and abroad. I work on my own and each item really is individually hand-painted and therefore unique. You will find no mass-produced, transfer ceramics from my studio!
The designs frequently reflect and celebrate the landscape of the Suffolk coast and its towns and villages where I live. Not all the ideas are too serious though, some being 'fun', such as the popular 'Pirate' designs for children but all of them use the skills I have built up over the years as a corporate graphic designer. This background is reflected in the quality of the designs themselves and of every aspect of my products, from the hand-painting to the packaging.