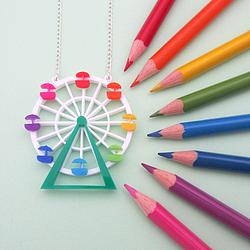 Hand Over Your Fairy Cakes is Sally McAdam who has been designing and making jewellery since 2006. She lives in chilly Glasgow with her boyfriend Keith and cats Harry and Chi.
Sally designs her jewellery on her computer and it is then laser cut in acrylic. Firstly, her ideas are drawn on paper, then she creates a vector image of the design which can then be laser cut in colourful acrylic. As many of Hand Over Your Fairy Cakes designs are quite complex, the layers of acrylic are glued together to form 3 dimensional pieces. All this excitment happens at her little desk in her flat, usually accompanied by a cup of tea.
Sally likes to use different types of acrylic, including mirrored, glitter and metallic, and even wood to achieve the perfect finish. This results in quirky jewellery that is fun to look at and enjoyable to wear! She has also more recently branched out into designs in enamel and even some stationery. Have a look through her shop, there's something for everyone.