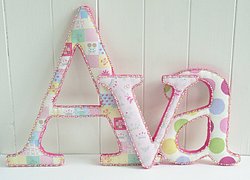 I have always loved designing and creating, and am particularly inspired by beautiful fabrics and papers. I started making and selling things on a vibrant sunset beach market in Australia, more than 20 years ago, and on returning to the UK started collecting beautiful designs, and looked for ways to incorporate my 'finds' into pretty cards and gifts for the home, with an emphasis on personalisation.
My products are all individually handcrafted, using gorgeous quality papers, fabrics, beads, sparkles and other lovely things. With customer satisfaction, creativity and high quality being my top priorities.
I specialise in a range of decorative products and cards, one of the most popular items being my range of padded, beaded, fabric covered letters. These stunning letters are made using your choice of fabric/s, and are individually hand sewn and beaded. The letters, look gorgeous either individually, on wall, or a shelf, or on a bed post, or a wardrobe door, or displayed on the wall as a complete name or word.
The cards and little personalised plaques and key rings I make reflect current trends and styles, and again, are largely personalised, and completly hand made by myself.