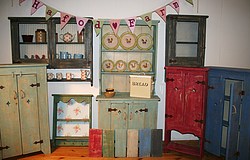 Hello and welcome to Hafod Farm. We are Peter and Joanne, and we live in and work from our farm in the Snowdonia National Park in North Wales. Eight years ago we brought Hafod, and we have been running it as a family company ever since then. We have a very busy, rural lifestyle that revolves around the family, our animals and the land.
The furniture business was started four years ago when we could not find the rustic furniture we were looking for to furnish the grade II listed farmhouse and cottages. We run them as holiday cottages, and we got such a great reaction from our customers we decided to go into production. The designs are sketched at the kitchen table, the workshop makes the furniture from British pine, then it is painted, distressed and waxed.
We hope that our customers will appreciate the handmade, rustic look and feel of the products, and feel reassured that they are made in an ethical, sustainable way. We want to deliver a custom made piece of furniture that becomes part of the home, so we ask customers to choose the colour of their furniture, and then make it to order.