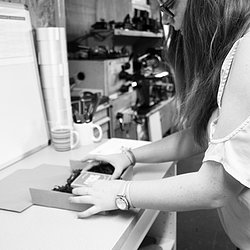 GLB Graphics is a graphic design company focusing on making the world a more creative place. We at GLB Graphics love everything that is cosy, homely and well designed.
We pride ourselves on making sure every product we create and send to our wonderful customers is to the highest of standards!
Currently based in Andover, Hampshire; GLB Graphics started in July 2014 and with our motto "a world more creative", we thrive to make every product as creative as possible. Nothing means more to us than making that extra special product for our extra special customers!
Our team captain, Gemma, is the owner and founder of GLB Graphics and creates every product we sell. She loves making the perfect gift for the perfect occasion and is constantly jotting ideas down in her endless amount of notebooks! She is never short of inspiration or ambition.
We hope that you can find the product that is perfect for you, we are happy to help with any queries or questions about our product and definitely don't mind going that extra mile for our customers!