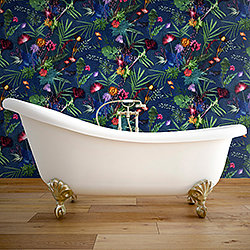 Botanical Britain – Picked, Pressed, Printed.
Gillian Arnold is a home wares producer with a passion for blending botanical design and artisan production skills. Our designs are created by Gillian's inexhaustible experimentation with sustainably gathered English wild plants and rich colour drenched collages, which are transferred to an ever growing range of handcrafted luxury products.
Gillian works closely with nature and this is heavily reflected in her art work and products. Finding beauty in all nature, she routinely visits Britain's wilderness with her husband and three children to hand pick the natural articles that are used in her designs. The power of her art comes from her compositional skills, which she learnt after spending over a decade working within London's inner-city schools, introducing them to art and composing huge murals and commissioned art work.
We also invest our artistry and profits into developing young people and community regeneration projects, deliberately situating our factory in Bishop Auckland in the North East of England, an area of tremendous revitalisation. From here we are able to insource our manufacturing process, hiring locally to help teach design industry skills within our area and develop social renewal projects.