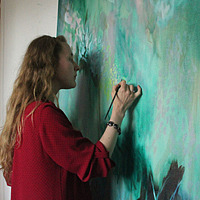 Georgina Vinsun is a British fine artist who paints colourful Romantic abstracts in oil on canvas.
Filled with depth and detail, the paintings are all inspired by the overwhelming forces of nature, in particular, the sky. Alongside this passion for nature sits a deep-seated passion for spontaneity and expression, which finds its form in the brush marks and spiralling, gestural lines that come to rest on top of the soft, atmospheric veils of colour which make up the body of her paintings.
Georgina graduated from Loughborough University (UK) in 2005 with a BA (Hons) degree in Fine Art (Painting). Since graduating her work has been widely exhibited, both in the UK and on an international level. In 2012 she was selected as one of Saatchi Art's 'One to Watch' artists & has since gone on to win several times in ArtSlant's popular Showcase Competition, most recently gaining a juried win in the Abstract category (1st Showcase 2015). She currently works from her cosy home studio in the Staffordshire Moorlands.