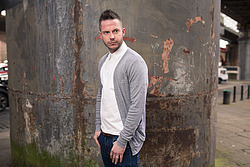 'Simplicity is the ultimate sophistication' - Leonardo da Vinci.
Gentlemen is a menswear brand set up in 2013 that delivers subtle, simple, smart attire focusing on a clean, honest image full of character. We strive to be Gentlemen and reflect qualities that every man should aspire to implement. Be nice, be honest, be clean, be well groomed, take pride in what you do, treat people with respect and look after your surroundings. It's simple. We try to include such qualities in our product, by using great materials that can provide the look that you need. 'Less is More' is the approach we take in everything we do. We keep things tidy by using a design that is clean cut, sharp and by providing a great fit – not too tight, not too big, just right. We use high quality, ethically sourced materials and by working with experts in graphic design, supply and manufacturing we now believe we have found a great balance with all aspects of the product. Trying our utmost to stick with the British theme, we work closely with UK businesses to produce fairly sourced products and in fair environments of work.
Be a Gentleman, Wear Gentlemen.