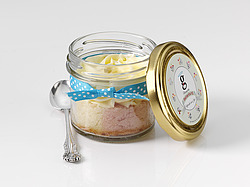 At G Desserts we make the most divine desserts using only the finest and freshest ingredients, free from additives and preservatives. Most of our ingredients are sourced from local and regional producers in the UK. All our cupcakes are individually handmade, in jars and comes complete with a beautiful swiss dot grosgrain ribbon.
As a mother of three I became an avid baker when I discovered that my children were having adverse effects from some of the additives and preservatives used in mass-produced cakes. This led to my passion for creating indulgent desserts full of natural goodness.
Why the jars? I started baking in the jars originally as a way of portion control, then I discovered that it was also a neat, easy way of storing the desserts in the fridge or freezer and they seal in the moistness of the cupcakes. Thus, they last longer than regular cupcakes. Cupcakes in Jars travel very well, so are handy for packed lunches/picnics, impressive at dinner parties or at corporate events, perfect as wedding favours, make great gifts for friends and family.
Since the jars can be reused or recycled, they are environmentally friendly.